Headteachers are calling for the government to allow secondary schools to move all teaching online for pupils undergoing mass coronavirus testing in London, Kent and Essex.
The National Association of Headteachers (NAHT) and the Association of College Leaders have written a joint letter to education minister Gavin Williamson, urging him to shut the doors of secondary schools and colleges whose pupils are being tested this week and to roll out the mass testing of students to other high infection areas in England.
The unions say the move would reduce the danger of infection transmission by these pupils in classrooms and on public transport, while avoiding a logistical nightmare for teachers and further disruption to children's education. "We can't simply ask already overburdened school staff to administer these tests, because it will just stop the education effort in schools," said NAHT general secretary Paul Whiteman.
The Observer also understands that the government is considering mass testing of primary school children. The Department for Education said it would not be commenting on this matter: "It hasn't been confirmed and therefore is speculation":
A quick palate cleanser before we return to pandemic news:
Australians have made great use of free medical services during the Covid-19 pandemic, pushing bulk billing to a record high, AAP reports.
Almost nine out of 10 visits to the doctor nationwide were provided at no cost to the patient.
Temporary changes to Medicare during the pandemic, such as GP telehealth services to prevent the spend of the virus, were a factor behind the surge in bulk billing.
In the 12 months to September, the bulk billing rate for GP services was 88.7 per cent, 2.6 percentage points higher than a year earlier.
Total benefits for Medicare services reached $25.3 billion.
"Today's figures show the Morrison government's rapid response to the pandemic allowed Australians to access the health care they needed, despite the challenges of COVID-19," federal Health Minister Greg Hunt said in a statement on Sunday.
By the end of September, Medicare had paid benefits for 2.5 million Covid-19 video consultations and 30.4 million Covid-19 phone consultations provided by GPs, specialists and allied health professionals.
Tractor trailers loaded with suitcase-sized containers of Covid-19 vaccine will leave Pfizer Inc's manufacturing facility in Kalamazoo, Michigan, on Sunday morning – launching the largest and most complex vaccine distribution project in the United States, where the virus is raging, Reuters reports.
US regulators late on Friday authorised the vaccine from Pfizer and partner BioNTech for use, and U.S. marshals will accompany the tightly secured shipments from factory to final destination.
"We have spent months strategising with Operation Warp Speed officials and our healthcare customers on efficient vaccine logistics, and the time has arrived to put the plan into action," Wes Wheeler, president of UPS Healthcare, said on Saturday.
Pfizer's dry-ice cooled packages can hold as many as 4,875 doses, and the first leg of their journey will be from Kalamazoo to planes positioned nearby. Workers will load the vaccine – which must be kept at sub-Arctic temperatures – onto the aircraft that will shuttle them to United Parcel Service or FedEx air cargo hubs in Louisville, Kentucky, and Memphis, Tennessee, respectively.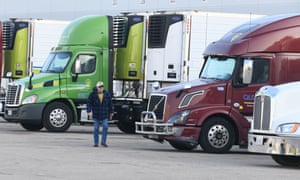 From there, they will be trucked or flown to facilities close to the 145 US sites earmarked to receive the first doses.
Familiar UPS and FedEx package delivery drivers, who may also be carrying holiday gifts and other parcels, will deliver many of the "suitcases" into the hands of healthcare providers on Monday. The shipments are the first of three expected this week.
Healthcare workers and elderly residents of long-term care homes are first in line to receive the inoculations.
Pfizer's inoculations have the most restrictive requirements for shipping and storage temperature, minus 70 degrees Celsius (minus 94°F).
UPS and FedEx are giving the vaccine top priority, reserving space on planes and trucks at a time when pandemic- and holiday- related e-commerce are creating more demand for deliveries than carriers can handle.
Both companies have expertise handling fragile medical products and are leaving little room for error. They are providing temperature and location tracking to backup devices embedded in the Pfizer boxes, and tracking each shipment throughout its journey.
The number of confirmed coronavirus cases in Germany increased by 20,200 to 1,320,716, data from the Robert Koch Institute for infectious diseases showed on Sunday.
The reported death toll rose by 321 to 21,787, the tally showed.
Pfizer has said that the first Covid-19 vaccine supplies are being prepared to ship from the company's Kalamazoo, Michigan site.
They will be distributed by the US Department of Defense in partnership with agencies within the Department of Health and Human Services to government-designated facilities across the country, Pfizer said on Saturday night US time.
Opponents of lockdown measures have regularly protested in German cities over curbs. On Saturday, police in Frankfurt and Dresden were dressed in riot gear and armed with water cannon to enforce a ban on such demonstrations.
Economy Minister Peter Altmaier told the RND newspaper group on Saturday that hospital intensive care units were beginning to be stretched to their limits and that Germany could not wait until after Christmas to react.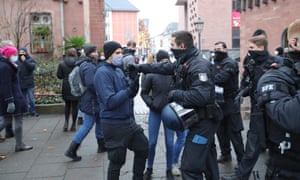 Merkel has favoured stricter pan-German measures but was unable to get agreement from the nation's 16 states.
But some states have since clamped down on their own.
Starting Saturday, a night curfew will be in force in the southwestern state of Baden-Wuerttemberg, except for people going out to work and for essential reasons.
More now on Germany's plans to close shops.
The decision came ahead of a meeting planned for Sunday morning between Chancellor Angela Merkel and state leaders as Europe's largest economy grapples with a rise in infections, people familiar with the matter said on Saturday.
Germany has been in partial lockdown for six weeks, with bars and restaurants closed, while stores and schools have remained open. Some regions have already imposed tougher measures as infections grew.
Markus Soeder, the premier of Bavaria, told Germany's Bild newspaper that the new measures would be wide-ranging, including schools, kindergartens, contacts and shops.
"We definitely have to take the necessary measures before mid-week," he said.
Germany was more successful than many European countries in keeping the pandemic under control in the first wave in March and April. But it has been struggling to turn the tide in the second wave with what has been dubbed a "lockdown lite".
Daily new infections have climbed to 28,438, while the daily death toll was 496, data from the Robert Koch Institute (RKI) for infectious diseases showed on Saturday.
"We must take steps in the coming days that are very far-reaching and very hard-hitting," German Finance Minister Olaf Scholz told members of his Social Democratic party at an online event.
Malaysia's Top Glove saw profits soar, and its stock price jump as much as 400 percent this year as countries worldwide rushed to buy protective gear as the pandemic intensified.
But in interviews with AFP, the South Asian migrants working flat out to make the gloves – who typically earn around $300 a month – described appalling living conditions, in cramped dormitories where up to 25 people sleep in bunk beds in a single room.
Some claim the company did not do enough to protect them despite repeated warnings.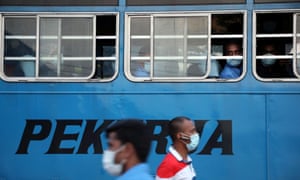 The scandal has added to growing pressure on the firm, already under scrutiny after the United States banned the import of some of its gloves over allegations of forced labour earlier this year.
The infections also prompted factory closures and look set to have an impact on global supply.
Top Glove, which commands about a quarter of the world's market, has warned of delays to deliveries and rising prices.
The Australian share market looks set for a flat opening on Monday after Wall Street was kept in check by the lack of an aid package from Washington and rising levels of Covid-19.
Australian SPI 200 futures were down one point at 6630.
But it still managed to rise 0.1 % on the week, its sixth consecutive weekly gain.
Australia's mid-year budget review is due at some stage this week.
It comes just weeks after the Treasurer Josh Frydenberg's 2020/21 budget was handed down in October, which was delayed from May due to the pandemic.
Even so, there has been some significant developments in that short space of time.
The economy's rebound from recession has been stronger than expected, as has the rise in employment, while confidence among Australian and business confidence has gone through the roof – a key pointer to future activity.
In Australia, there are two key events before economists and investors start winding down for year-end – jobs figures and the mid-year budget review, AAP reports.
Thursday's labour force report for November is not expected to be the blockbuster seen in the previous month, when there was a surprising 178,800 surge in the number of people employed, aided by a return to work in Victoria as its lockdown ended.
For November, economists' forecasts centre on a 40,000 increase in employment.
The unemployment rate is expected to remain at seven per cent, still shy of the spike to 7.5 per cent seen in June and during the depths of the pandemic, which was the highest level in 22 years.
But this would still mean nearly a million people are without a job.
An analysis by the Reserve Bank last week warned that while the economic outlook remains highly uncertain, it is likely that the unemployment rate will remain elevated for a number of years.
"As such, some unemployed people are facing the prospect of a prolonged period of unemployment," it says.
Currently around one in every five unemployed people has been jobless for more than a year, an increase from about one in every eight a decade ago.
African-American country singer Charley Pride, whose No. 1 country hits included "All I Have to Offer You (Is Me)" and "Kiss an Angel Good Mornin,'" died on Saturday at age 86 of complications from Covid-19, according to his website.
Pride, who died in Dallas, was not the first Black artist to make important contributions to country music, but he was a trailblazer who emerged during a time of division and rancour.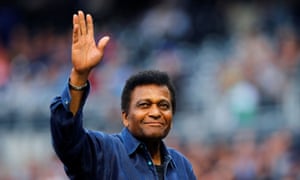 Between 1967 and 1987, Pride delivered 52 Top 10 country hits, won Grammy awards and became RCA Records' top-selling country artist, according to the website.
"We're not colour blind yet, but we've advanced a few paces along the path and I like to think I've contributed something to that process," Pride wrote in his memoir.
The Mississippi native picked cotton, served in the US Army and played baseball in the Negro league before moving to Nashville, becoming the first Black country star. He joined the Country Music Hall of Fame in 2000, Rolling Stone magazine said.
French theatres, cinemas and other venues said on Saturday they would go to court to force the government to allow them reopen, as the country emerges from partial virus lockdown on Tuesday, AFP reports.
The government announced on Thursday it would lift the six-week-long partial lockdown on December 15 and impose a night-time curfew instead.
But in a severe blow for the cultural sector, it said that museums, theatres, concert venues and cinemas would remain closed for three more weeks.
Nicolas Dubourg, president of a union representing 400 venues, said he would seek an urgent hearing on the matter at the Council of State, France's highest administrative court.
"Our lawyers are busy compiling all the arguments," he told AFP.
The government's announcement forced venues into last-minute postponements of year-end productions and shows on which they had been relying to recoup some of their Covid-induced losses.
Panama registered a record 2,806 new cases of coronavirus infections on Saturday, taking the total number in the Central American country to 190,585, while deaths climbed by 22 to 3,331 overall, the health ministry said in a statement.
The record surpassed a previous high of 2,447 new cases reported by the Panamanian government earlier this month.